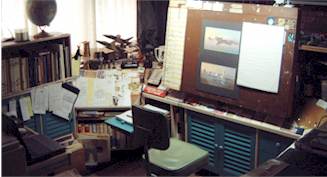 Welcome to our web site. You will be able to visit Keith's studio where he has created his aviation art for the past 53 years. Visit our gallery on this web site and you will be able to view the most complete selection of Keith Ferris art to be found anywhere, in a gallery or on the web. We have opened our web site with the  Artist's Biography, Client History, Aviation Quiz, Studio Tour, and Gallery pages. We begin with approximately 30 titles and will be adding to that total continually until all available images are included. We also plan to activate additional pages as quickly as time allows. Visit us often for new material.
You will be able to purchase books, prints, posters and original art directly from this site. If you are looking for a Ferris print not seen here, let us know. We may be able to help.
If you are a collector of Artist's Proofs, we have a nice selection of these valuable prints. Our products are guaranteed! If you are not completely satisfied with your purchase, simply return the item undamaged for courteous refund or exchange.
Keith will happily personalize prints/posters ordered by individuals at no additional charge. All we will need is the name of the recipient. This makes a very special gift.
We have made every effort to show you quality images within the limits imposed by the need for minimum download time.
We invite you to come fly with us, enjoy our adventure, soak up a bit of history, and face a challenge or two. 
HAVE FUN!